Makes home the ultimate
comfort zone
MyAir is our premium air conditioning
management system with 10 zones,
individual room air flow control and a
touchscreen that can double as a tablet.
Life just got even more comfortable with
MyAir.
Watch the instructional video
MyAir5: the latest version of MyAir
MyAir5 is Advantage Air's most advanced air management system ever. By downloading the MyAir app for your smart device, you can remotely control your reverse cycle air-conditioning from anywhere. You can adjust the airflow to every room, or for complete comfort, by installing Individual Temperature Control (ITC) sensors, they will adjust the airflow automatically for you. MyAir5 is compatible with all major brands of air conditioners so you have the flexibility to choose the right unit for your home. And not only does the 8-inch touchscreen double as an Android tablet, it completely integrates with MyLights, our smart home lighting system.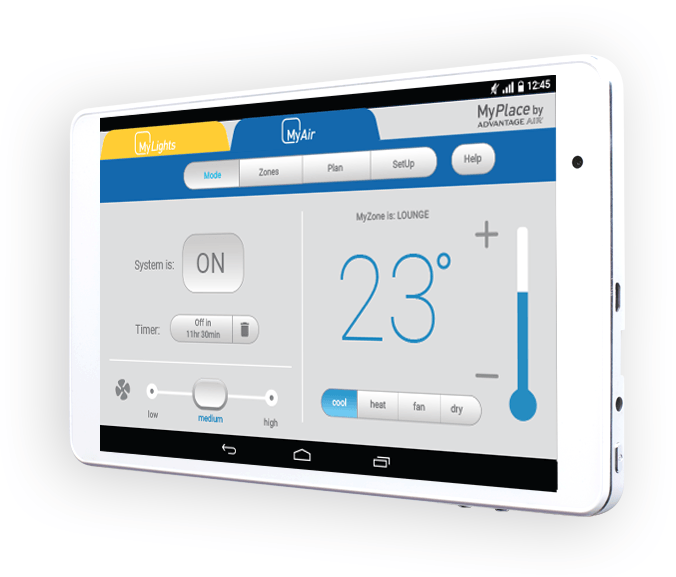 MyPlace: an 8-inch Internet smart home control panel
As daily life migrates online, it's handy to have a dedicated tablet for the home. In addition to controlling MyAir and MyLights, the MyPlace touchscreen doubles as an Android tablet that lets you keep track of the family's calendar, check emails, order groceries, play music, pay bills and so much more … all from a centrally located hub that is always powered and wall mounted so never goes missing!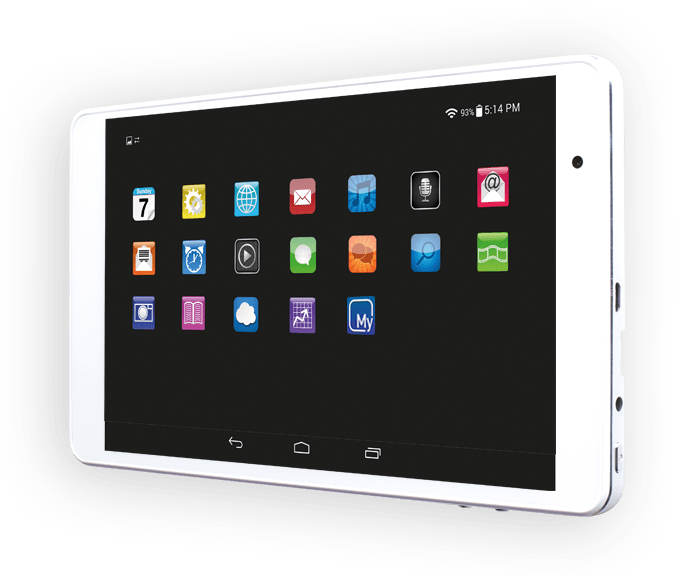 MyAir's 8-inch Touchscreen doubles as a tablet
It controls your entire reverse cycle air-conditioning system, then with a tap of the Android icon you can switch from the MyPlace app to the tablet. As everything from ordering groceries to paying bills migrates online, having a dedicated tablet for the home makes everyday life a little more comfortable.

MyAir App for additional control
MyAir comes with its own app that turns most smartphones or tablets into remote controls, allowing you to control the air conditioning system even when you're not at home. It works on both Apple and Android devices (iOS7+ and Android V4+).
Integrates with major air-conditioning brands
MyAir controls Samsung, Daikin, Fujitsu, LG, Panasonic, Toshiba, Hitachi, Mitsubishi Electric, Mitsubishi Heavy Industries, Carrier and Midea air-conditioners. MyAir's touchscreen controls both the air-conditioning unit and air management system, so there's no need for 2 control panels.

Precision airflow for perfect comfort
With MyAir you also control how much air each room receives, thanks to Advantage Air's patented Exact Air Regulator (EAR). It uses advanced technology, usually reserved for commercial high rise buildings, that enables you to adjust the airflow to any room in precise 5% adjustments.

Want even more precise temperature control in certain rooms? Install an Individual Temperature Control (ITC) sensor and the system will automatically adjust the airflow to maintain your selected temperature. Sensors are useful in west facing and upstairs rooms that heat up faster than the rest of the house.

Precision airflow for perfect comfort
Motion sensors detect when a room has been empty for 10 minutes, and automatically adjusts the target temperature by 1 degree. If the room is still empty after 20 minutes, the temperature is adjusted by 2 degrees. This small adjustment reduces the room's energy usage by 20%. When you re-enter the room it will return to your original target temperature.