SPLIT SYSTEM AIR CONDITIONING ELTHAM
When it comes to choosing an effective cooling option for your home or business, split system units are hard to overlook. Providing the flexibility of both heating and cooling, split system air conditioners provide a customisable cooling solution that can be tailored to any space.
Air Fusion proudly services all homes and businesses in Eltham, and the surrounding communities including; Blackburn, Bundoora, Doncaster, Doreen,
Greensborough, Heidelberg, Ivanhoe, Mitcham, Ringwood & Rosanna.
All homes and businesses are different, from the size and shape of the room you wish to cool, to the windows, ceiling height and wall space. Then of course, you'll also want to consider your lifestyle, habits and preferences while also find an efficient and cost-effective solution that will keep you comfortable right through the hot summer months. 
Air Fusion consider all of this through our specialised WRAPS program, matching you with the perfect split system from one of the leading brands we stock and supply. 
Split-system air conditioners use an outdoor condenser that is connected to an indoor unit which disperses the air in the designated area. Refrigerant pipe/electric cabling and condensate drain connect the two units. Depending on the size and configuration of the condenser, outdoor units can be small, quiet, and located anywhere within 15m to 100m of an indoor unit, allowing them to operate without intruding on your space and lifestyle. 
Split system reverse-cycle air conditioners are among the most versatile, quiet, efficient, and cost-effective forms of air conditioning. There are many options for indoor units. They can be mounted on the ceiling, wall or floor [ducted], or underneath the ceiling [cassette]. Every unit has its own electronic controls that you can set and forget. Split systems are perfect for people who want to air condition a single room, the entire house or a specific zone of the home.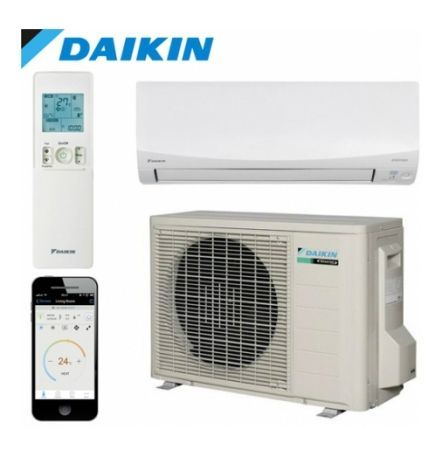 Wall mounted units are designed for heating or cooling the room in which they are placed. You can choose from many different designs and styles to keep your zone comfortable making them an economical way to maintain comfort within a specific area. The range of air filters available for wall-mounted units includes both dust capture and removal of odors/allergens as well as harmful airborne bacteria. The amount of time that the air conditioner is used will determine how much maintenance is needed. You should make it a habit to clean your filters every month. This will ensure that the air conditioner is working efficiently and protect the manufacturer's warranty of five years. 
You can choose from capacities ranging from 2kw to 10kw. They are versatile enough to make it comfortable for any size room. Choice Magazine, May 2014 recommended the Mitsubishi Heavy Industries SRK92ZMAS-S model as being the most efficient on market. 
Multi Split systems are an excellent option when there is limited space for units to be placed or there is not enough duct work available for a central air conditioning system. 
Multi System comprises one outdoor unit and a variety of indoor units strategically located in the zones. Multi-split technology allows you to control the air conditioning individually in each zone. However, each indoor unit must operate in the same mode: heating or cooling. 
Each unit is wired and connected exactly the same as a single split, except that there are a few more indoor units. 
Servicing Eltham And Surrounding Suburbs for all your air conditioning and heating needs for over 30 years
Unit 1/38 Bridge St Eltham VIC 3095