Heating Installation Service in Viewbank
The heating of one's home, office or commercial property is no different to cooling it. You need to ask yourself what you are trying to achieve. The use of modern technically advanced ducted heating or high efficient rated gas heating units will not only allow you to keep warm in Viewbank, but will also save you an arm and a leg.
Air Fusion has a range of ducted and gas fired systems for all size projects as well as top quality branded heating units as standalone or ducted solutions. Most leading reverse cycle heating brands utilise inverter technology, which allows the rotating speed of the compressor to move up or down depending on the required output of the unit. Therefore the unit never switches off completely. This can save up to 30-50% of your energy consumption. These units also reach the desired temperature quicker and maintain it without fluctuations.
Book your free heating measure & quote.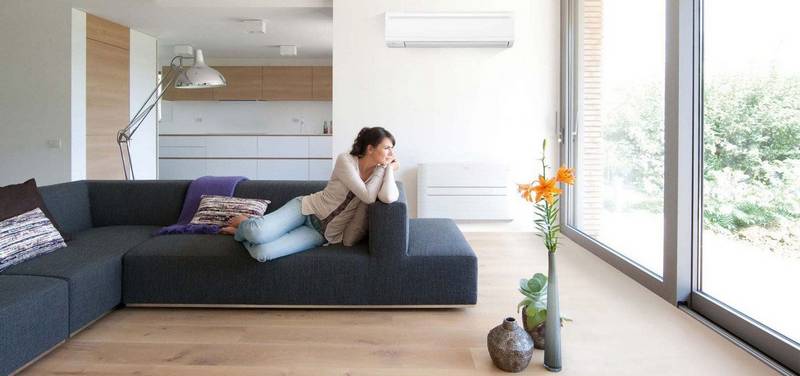 Reverse Cycle Inverters in Viewbank
Another key aspect of any reverse cycle inverter is its ability to operate when the temperature falls as low as 15 C. A quick check of the manufacturer's specs will tell you the max and min operating temperature ranges.
Standalone natural GAS or LPG heating units have over the years improved their energy efficiency levels and provide a very attractive option and as a fit for purpose solution where a reverse cycle may not be the best option.
Split System Heating in Viewbank
Split system reverse cycle air conditioners have an outdoor condenser connected to an indoor unit that disburses the air in the zone it is positioned in. Connecting the two units is refrigerant pipe / electrical cabling and condensate drain. Outdoor units depending on the size of the condenser can be compact, quiet and depending on the model, can be located anywhere from 15m to 100m of the indoor unit thus allowing to make them almost invisible.
The split system reverse cycle air conditioner is one of the most versatile, clean, quiet and economical forms of air conditioning available. The indoor unit style can vary, either mounted on the wall / floor / within the ceiling (ducted), under ceiling mounted (cassette). Each unit comes with its own electronic controls which you can set and forget. Split systems are ideal for those wanting to air condition one room, the whole home or zone the home to maximize efficiency.
The co-efficiency of performance of a branded unit is up to 5 times the original input when it comes to heating and a reason why a split system used for heating as a very attractive option.
Wall Mounted Splits
Wall mounted units are designed to heat the room they are installed within. Coming in many differing styles and designs, they are an economical form of maintaining comfort within a zone. All wall mounted units offer a range of air filters, both capturing dust and also removing odors / allergens and other harmful air borne bacteria. Maintenance of an air-conditioner is required depending on the amount of use. Cleaning the filters should become a monthly habit to ensure the efficiency is not effected and ensure your 5 year manufactures warranty.
Ranging in capacity from 2kw through to 10kw, allowing the smallest bedroom to the largest living areas to be comfortable. The latest Mitsubishi Heavy Industries SRK92ZMA-S model was Choice Magazine [May 2014] recommended as the most efficient model on the market.
Multi Split Systems
Multi split systems are a great option where there is limited space around the property to place a number of units or there is no room for duct work for a ducted air conditioning system and like the standard split system works well for heating.
A Multi System consists of one outdoor unit connected to a number of indoor units strategically placed in the planned zones. A multi-split system allows individual control of the air conditioning in each zone however each indoor unit must be set in the same mode.
The units are all wired and connected the same as a single split system but just with a few more indoor units connected.
Ducted System
A reverse cycle ducted system works on similar principles to the Multi Split, we have a condenser outside the home or commercial property linked to an indoor unit that sits in the roof, under a ceiling or under the floor sending air that has been heated connected via flexible duct work to designated zones in the property. Ducted systems can be designed to operate in two or more zones so they can be heated at different times of the day. This means that the heating system can be operated in the living areas during the day and in the bedrooms at night, saving money on energy costs.
Many styles of ceiling or wall registers are available to create the indoor look that you are after.
Gas Heating
Air Fusion has access to a number of leading brands in the direct heating market. Brands like Braemar, Rinnai, Brivis to name a few.
An essential feature of heating is its effectiveness and conversion of gas to heat. It is important for consumers to look at the energy star rating of the unit, the running costs selecting the right unit for the living or working zone you wish to heat and finally the environment. A gas unit is an effective carbon reduction product. You can select from a range of wall units, fully ducted units, wall furnaces as well gas log flame fires.
As an example the latest technology from Braemer heating solutions has a unit rated at 6 stars. This is where the consumer looking for a heating only solution needs to be thinking as the cost of gas and electricity continues to rise.
Air Fusion Pty Ltd offer change over systems that can utilise the existing duct work within your roof or under the floor. We can also provide a CO Carbon Monoxide test on your system to ensure the heat exchange is not seeping harmful gas to your home. It is recommended by the Energy Safe Victoria to have your unit tested every 2 years.
Hot Water
In the early 90s, Rinnai revolutionised the way Australians enjoyed hot water, and launched the first fully electronic gas continuous flow hot water system. They called it the Rinnai INFINITY, because it never ran out of hot water.
Today Rinnai INFINITY systems are even more sophisticated. Designed with the environment in mind, they've improved efficiency across the range and feature low emission burners and better water conservation.
The Rinnai INFINITY range of 16 – 26L appliances are now 6+ star efficient making the Infinity the best choice for your home.
Their latest innovation, the Rinnai INFINITY 26 Touch takes the convenience of temperature control to a new level.
Hydronic Heating
Hydronic heating is the most efficient and pleasant way to heat your home. It operates by re-circulating hot water, heated by a natural gas, LPG, or solid fuel fired boiler. No other heating system can deliver the gentle, hygienic warmth of hydronics.
Hydronic heating provides warmth in the same way nature does by natural convection and radiation. It does not dry out the air by burning or cause unpleasant draughts, hot spots or noise. Features of Hydronic include;
Efficiency – Save on your energy bills
Hydronic heating is the one of the most efficient ways to heat your home. Air Fusion has access to the most cutting edge boilers on the market ranging from 80% – 95% efficiency.
No Dust – No allergies
Dust and allergens are a big drawback with ducted heating systems, hydronic heating works on natural radiant heat and convection where there is no forced air circulation, meaning no dust and no allergies.
Safe to touch
All radiator panels are safe to touch with mild temperatures of water, safe for children, the elderly and household pets.
Silent
One characteristic of Hydronic Heating that is a clear advantage over many other forms of heating is the fact that it is silent. No noisy space heaters, wall heaters or ducted vents blowing constant air, hydronic heating heats your home in peace and quiet.
Reliable
Hydronic Heating is effortless and reliable; simply set the thermostat upon installation and forget about it. Maintenance is seldom required; the only working parts are the hot water boiler and the pump kit. High quality manufacturing with long term warranties ensure your system will provide reliable heat for many years to come.
Air Fusion has aligned themselves with one of the leading company's who specialise in Hydronic Heating. They are called Hydrotherm and their office is in Thomastown where they have a range of hydronic options on display these include panel radiators, convectors and underfloor heating and even towel rails. See what thousands of homes in Melbourne are already experiencing.
Book your free heating measure & quote.
[Lmediumshowmap size=custom address='Viewbank 3084, Australia' width=100% height=350]